Parent and Babe Classes - 6+ months old
We will be using your child's natural reflexes and the parent/child bond to develop basic water skills and prepare for a more formal swimming class.
30 minutes per class, recommended attendance of 2 x per week
Using the Tender Loving Care (TLC) approach, we introduce your baby to water safety and orientation through a structured series of activities, while having lots of fun. The Parent/Family member/Caregiver accompanies the infant in the water, thereby keeping the atmosphere stress free and friendly for the infant while presenting a special bonding experience.
Course aim:
to teach basic water safety skills;

encourage a love for swimming; and

strengthen the bond between the parent and baby.

Apart from having fun, added benefits are improved strength, alertness, agility, co-ordination and confidence!
Classes will remain relaxed and positive rather than being rushed. Please keep in mind that these lessons result not only in water skills, but holds many benefits for your baby's development!
IMPORTANT NOTE:
Infants with medical conditions/irregularities require written consent from their paediatrician to participate. Any and all conditions should be made known to the instructor. Registration for lessons is accepted on condition that a registration contract has been completed comprehensively and relevant fees paid.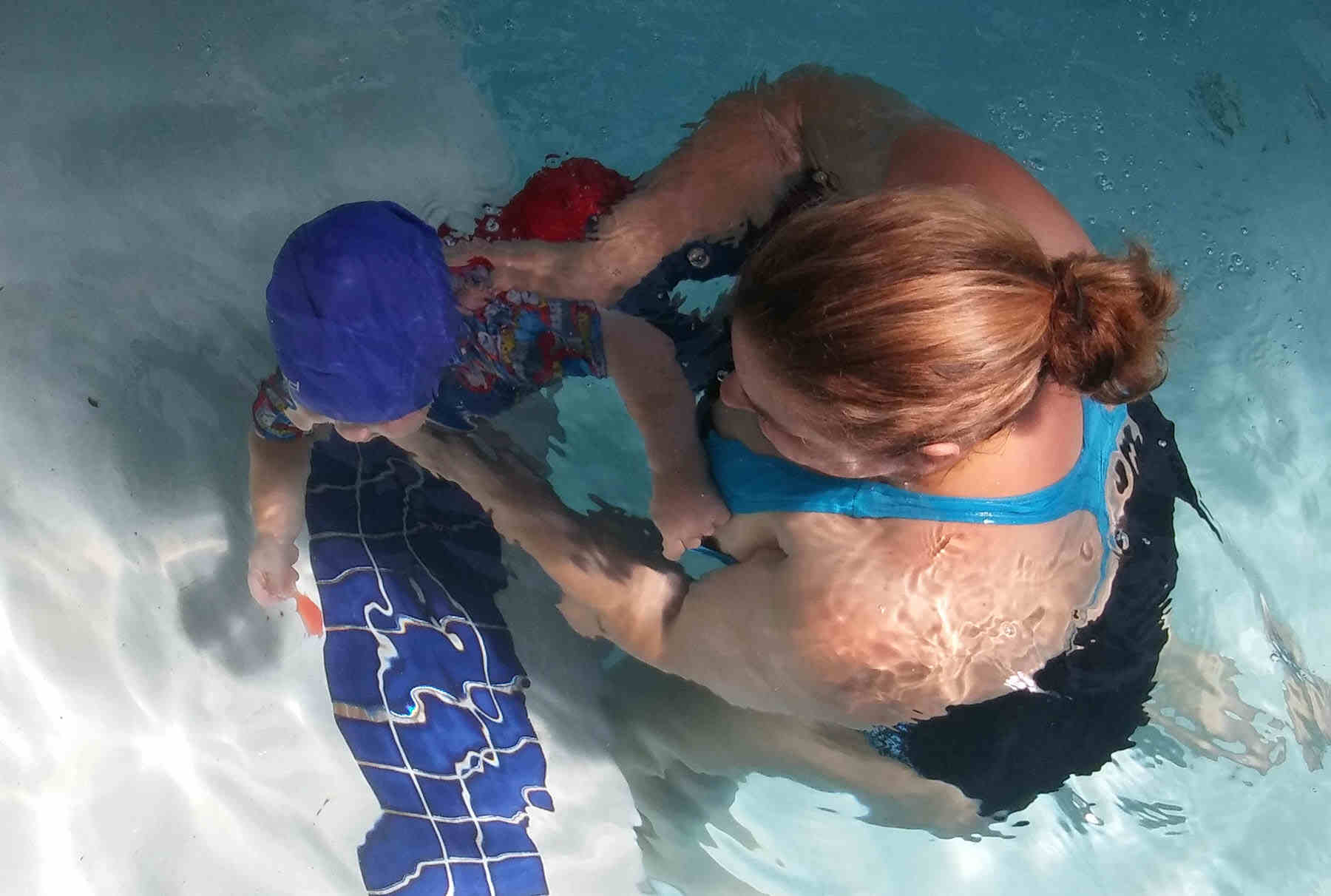 What should I bring along?
Firstly, lots of enthusiasm and positive attitude, since your child with

take

his/her cue from you!

Bring along two large towels to wrap your baby-love in after swimming (also, don't forget your own towel and a your robe if preferred!).
It is to the benefit of all participants if faecal spills, vomit, spit and mucous is prevented from contamination the water. Therefore, the wearing of swim diapers is a must and it is recommended that you always have an extra swim diaper (for emergencies) and a packet of wet wipes (for mucous) with you.
Please understand that, for hygienic reasons NO nappies can remain on the premises. Therefore, it is advised that you always have a plastic bag or two ready to wrap dirty/wet nappies in before taking them with you!
Important to Know:
Waterproof swim diapers (Little Swimmers) should always be worn when in the pool. Also, wrinsing them out in the pool after swimming is a NO NO! It is very important that you do not attempt to wear ordinary nappies in the

pool,

since they will become waterlogged and heavy!

Infants should never be forced to submerge and please follow the instructor's guidelines and instructions very carefully on this! Submersions should not exceed 5 per class and never exceed 3 – 5 seconds per submersion.
Please refrain from bringing your baby to class if ill or has an infection, especially (but not exclusively) open wounds, eye excretions or thick, green mucous.
Remember, infants learn at their own individual pace and should not be rushed, compared or forced to perfect skills.
A container will be made available next to the pool for scooping up any accidents (vomit, mucous, faecal spills). Please do this as expedient as possible to prevent contamination of the pool and ensure that you leave the container ready and clean for the next person to use. Please note that these arrangements are put in place for every participant in the pool, including yourself.
PLEASE NOTE: infants are never totally safe in and around water. Adult supervision should always be within hands- reach, regardless of their age or swimming ability. Although the safety of the infants is our foremost concern, parents or guardians assume all risk when joining the programme.