All Levels & Ages LTS (Learn To Swim lessons)
We will be using your/your child's natural curiosity/love for water, love for accomplishment and love for fun to developing basic swimming skills
30 minutes per class, maximum 4 pupils per beginners class
Using the Tender Loving Care (TLC) approach, we teach water awareness, safety & propulsion skills with/without a floatation device.
We determine your child's current level and start by/built onto by:
establishing a relationship of trust between the instructor and participant,
developing your child's water confidence;
increasing his comfort level in the water; and
preparation for formal stroke class structure.
Each participant will be encouraged to participate in group and individual activities, gradually learning to follow specific instructions.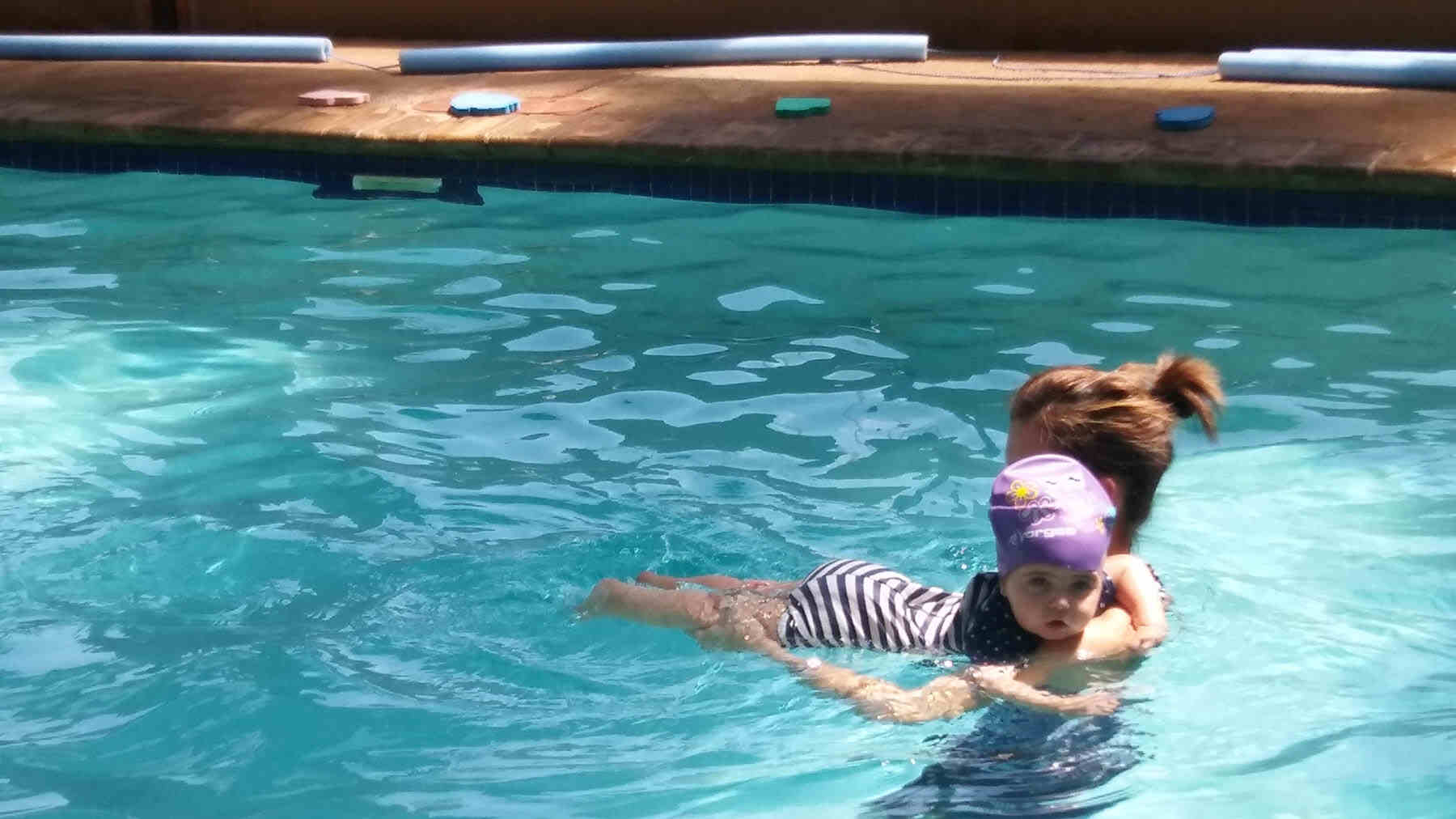 Level 1:
Water awareness and safety issues include general safety rules, reacting to instructions, how to enter and exit water safely, floating ability, propulsion with/without a floatation device using the arms and legs, submerging and moving under water. This is a gradual and closely monitored process in which your child will become comfortable with submerging his/her head underwater. Their basic propulsion skills will be introduced in a stroke-friendly way, to ensure an effective progression into formal strokes.
Level 2:
Still using the Tender Loving Care (TLC) approach, we now focus on gradually building their technique and strength and independence/water confidence. Lessons are more structured and focused towards reaching specific goals and levels.
Level 3:
Technique and Strength is gradually built until complete individual mobility, confidence and correct technique are obtained. Lessons are very structured and focused towards reaching specific levels and the learner are comfortable and able to swim in at least 2 strokes with correct technique. Additional strokes may or may not be added. Each pupil is still given room to develop at their own pace and confidence level. The focus is aimed at progressively improving body position, leg action, arm action and breathing before moving into the coaching/stroke correction level.
We believe that all pre-stroke activities should be done in very specific way to be enjoyable and ensure that their love for swimming and water remain intact without compromising safety.
IMPORTANT NOTE:
Infants with medical conditions/irregularities require written consent from their pediatrician to participate. Any and all conditions should be made known to the instructor. Registration for lessons is accepted on condition that a registration contract has been completed comprehensively relevant fees paid.
Important to bring along and keep in mind:
Firstly lots of enthusiasm and a positive attitude, since your child will take his/her cue from you!
A towel and dry clothes. In winter a gown with a hoody or a beany is recommended to cover your child's ears and head before exiting the room.
Where toddlers have been potty trained only recently or not at all, waterproof swim diapers (Little Swimmers) should always be worn to prevent embarrassing and hygiene-influencing accidents. It is very important that you do not attempt to wear ordinary nappies in the

pool,

since they will become waterlogged and heavy! Please respect that this is for benefit of all participants, including you own child!

Also understand that, for hygienic reasons, NO nappies are allowed to remain on the premises. Therefore it is advised that you always have a plastic bag or two

ready

to wrap dirty/wet nappies in before taking them with you!

Lycra

swim

cap or cash to buy one from the Awesome! Swimming School. We have specially made trainer caps for our little swimmers - ask us about them and/or what we would recommend!
Your child should attend lessons regularly to ensure good progress.
PLEASE NOTE:
No child is ever totally safe in and around water. Adult supervision should always be within hands-reach, regardless of their age or swimming ability. This remains applicable when on vacation or at home as well!